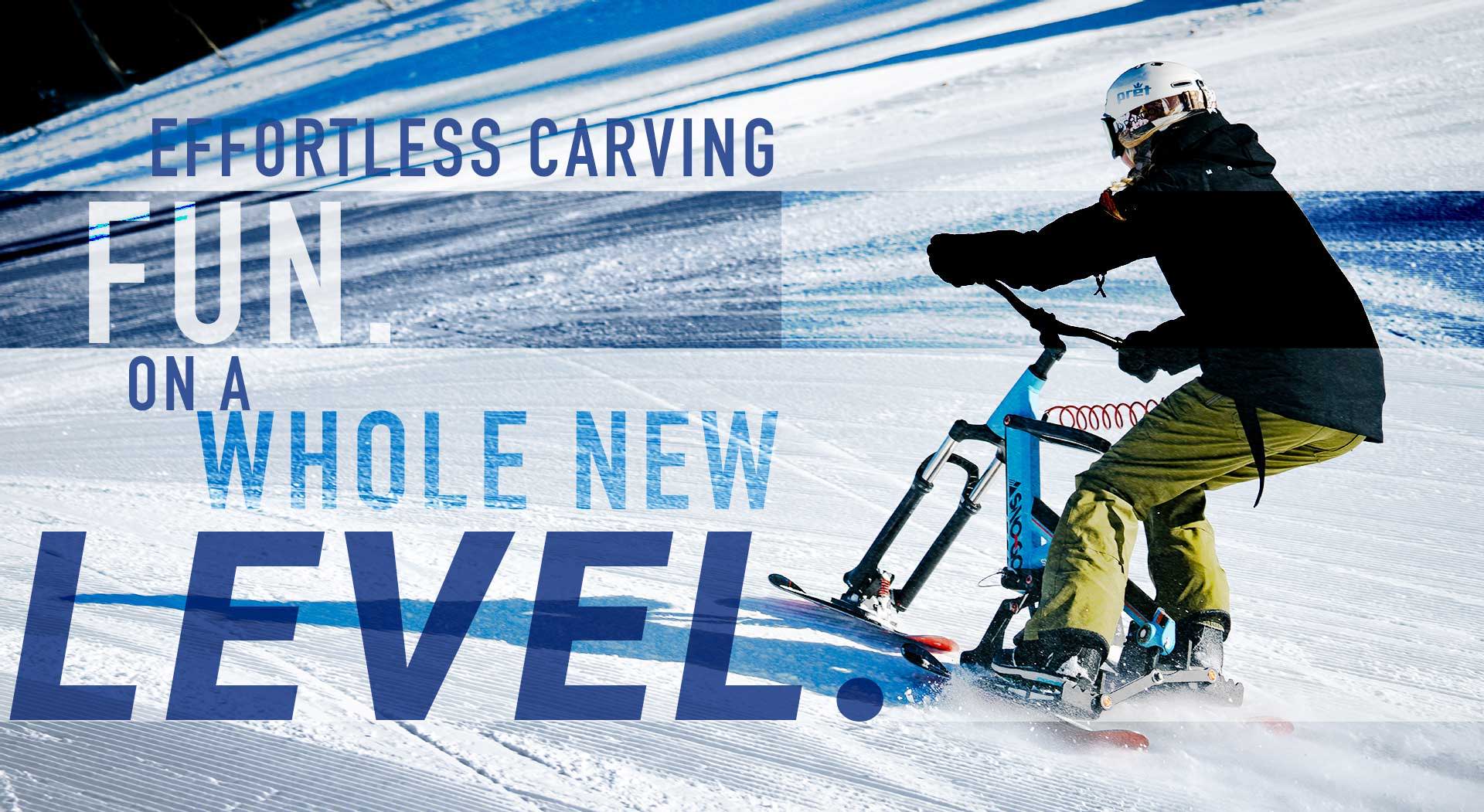 ---
S2 TOWER
Included on every 2021 SNO-GO bike is an all new S2 Tower which provides even more forgiving dampening and increased tolerance for better performance and durability. The result is a buttery smooth carving sensation unlike any ski bike you've ridden before. If you like to push your SNO-GO in the steeps and through the trees, the new S2 Tower will have you linking berms and bumps with more swank and flow than all your skier and boarder bros. Finally, the SNO-GO skis have a fresh new look and offer the same advanced sidecut to ensure full tip to tail edge contact throughout the entirety of your turn. Includes standard leash.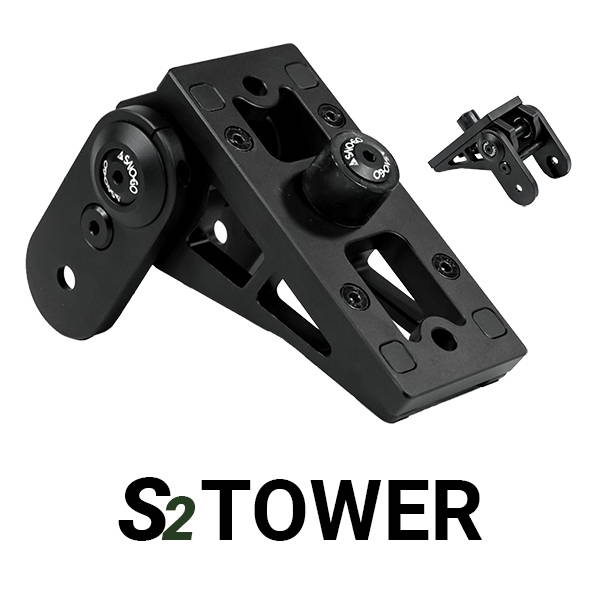 ---
Synchronized Lateral Articulation Technology
A patented technology exclusive to SNO-GO built to mimic the movements of an expert skier maintaining parallel skis for effortless carving and keeping you in control over any terrain.
---
Assembly, storage and transport are made simple and easy with our three-point quick release system. SNO-GO's break down into three easy to manage pieces, allowing you to fit your snow bike into a small sedan trunk or large duffle bag.
Powder coated matte paint finish

Fork: Rockshox Judy- turnkey lockout, external rebound adjustment- 120mm Travel

Stem: Adjustable height 90mm - Easily adjust for riders 5' – 6'3"

Skis: 75cm front 90cm back

Chairlift Hook: The chairlift hook is strategically built so it counterbalances the bike on the chairlift for safe, easy and intuitive loading and unloading.

Improved front ski tracking-spring allowing for smaller bump sensitivity while strong enough for big-hits in the park

Safety Leash: 7mm coil with break-away tech

Grips: Lock on, ergonomic palm rest

Bindings: Newly improved adjustable binding for riders looking for a snug fit. Adjustable front and back to accommodate riders of different height and shoe size. Customizable traction cleats allow you to find your preferred grip.

6061 Aluminum Handlebars. 630mm wide, 33mm rise

Total weight: 33lbs

Too early to say....
Given it is early October in New England it is too early to say. The assembly process was OK. However without the assembly video, it would have been significantly leads so.
So much fun
I am an avid snowboarder and I also like to ski once or twice a season. They were renting these at Mountain High in Southern California a few weekend before the virus shut everything down. I rented one and I found it so easy to learn. On my first run I was riding it over large wide boxes and small jumps in the terrain park and I felt like a champ. It was so easy to learn and I recommend it to everybody. I am not paid to say this but everyone should really try one of these out.
Easy to assemble, screw heads are soft
Pretty easy to assemble the SnoGo, however the screw heads are really soft and on tightening a lot of them have shredded. Goodness knows how I'll be able to either remove, replace or re-tighten a few of them. That said, waiting for the snow here in NZ and looking forward to giving it a run.
Most fun I've had in a long time!
Let me start by saying that I have NEVER touched a snowboard, skis, ice skates or any other type of winter sporting equipment EVER in my life.... I saw these a couple years ago and was to chicken to try them until February of this year and I'm so thankful I did!!! I rented one of these bikes, fell twice on my first run then never again. Ripped all day and rented every weekend for the next 3 weekends in a row! Such a blast and an extremely easy learning curve! Needless to say I'll be buying my own for next season! Hoping the Ellicottville area of western New York starts allowing them!! No more winter hibernating for me Haha
Amazing
I rented Snogo a few times this winter from Gunstock and Loon! Amazing experience with the bike, coming from snowboarding and knee injuries it was great getting back on the slopes. Unfortunately it was cut short due to the virus. Amazing product and company. Hope to see them expand in Nh and Mass more!